France, Portugal head for Euro 2016 final showdown
The Euro 2016 final on Sunday sees a match between hosts France and Portugal that will unleash a clash between one of the world's greatest players ever Cristiano Ronaldo and wouldbe pretender Antoine Griezmann.
The Euro 2016 final on Sunday sees a match between hosts France and Portugal that will unleash a clash between one of the world's greatest players ever Cristiano Ronaldo and would be pretender Antoine Griezmann.
VOTE HERE: France vs Portugal
After 50 matches over a month of football that has seen stunning shocks by Iceland and Wales, Ronaldo is counting on his side producing one more upset so he can finally win an international trophy.
Portugal will have to beat a French side who have found new inspiration from Griezmann - the tournament's leading scorer on six goals - and being willed on by a nation avid to rediscover the feelgood factor.
Fernando Santos vs Didier Deschamps
Rival coaches Didier Deschamps of France and Fernando Santos of Portugal have been desperately trying to shield their teams from the sky high hopes of two nations.
Portugal's head coach Fernando Santos (L) and France's coach Didier Deschamps. AFP
Didier Deschamps said:  
"It's an exceptional moment, a privilege, a unique chance because there is a title at the end," .

"What you need to do is approach it as relaxed as possible while being at the same time totally focussed on the match."

"On the bench, there is a frustration in not taking part, but I can't do that anyway. But I'm fine, I don't feel any pressure, no stress, just adrenaline and that's positive."
France have put in some stylish performances, including their 5-2 win over Iceland to end the giant killing run of the team that dumped England out of the contest.
France want to make 'history' after team strife:  Hugo Lloris 
France captain Hugo Lloris said the team wants to put their name in the football history books to redeem themselves for a player revolt at the 2010 World Cup that made them a national disgrace.
The troubles were worsened by the exclusion of star striker Karim Benzema over an alleged sextape blackmail attempt.
#FRA are physically and mentally ready for the #EURO2016 final, says Hugo Lloris. #PORFRA pic.twitter.com/JSSGwlY1K0

- UEFA EURO 2016 (@UEFAEURO) July 9, 2016
 "We have come through a crisis in French football," the Tottenham Hotspur goalkeeper said. "We have climbed back up the slope, we have done it step by step."
Lloris said that Sunday's final is "the chance to go into French football history."
France with home advantage in the 85,000 capacity stadium, Griezmann, star midfielder Paul Pogba and the calming influence of Lloris start as favourites.
France go head-to-head...#EURO2016 #PORFRA pic.twitter.com/xaPHYYDanA

- UEFA EURO 2016 (@UEFAEURO) July 9, 2016
 But they acknowledge the omnipresent danger of Ronaldo on the pitch.
Santos has succeeded by building a team around the superstar striker and winning "ugly" when necessary to get to the next round.
Portugal look to spoil French party
For Cristiano Ronaldo's Portugal the Euro 2016 final on Sunday offers a golden opportunity to end a miserable record in meetings with France.
As well as having home advantage and history on their side from wins in their last two major tournament finals on home soil, Les Bleus can claim to be Portugal's bete noire.
Portugal's 2-0 win over Wales in the semi-final was the first in the tournament achieved within 90 minutes.
Veterans such as defender Pepe and Ricardo Quaresma have played lynchpin roles on days when Ronaldo has failed to fire.
Portugal have been criticised for some of their European Championship performances but Santos said he does not care.
Portugal have never fully recovered from losing the 2004 Euro final to Greece when they hosted the tournament. 
.@Cristiano Ronaldo: "I think @selecaoportugal will win their first major trophy on Sunday."#EURO2016 #PORFRAhttps://t.co/1kOjNybxkV

- UEFA EURO 2016 (@UEFAEURO) July 9, 2016
Ronaldo who shed tears as a 19-year-old at that match said this week he wants to be "crying with joy" on Sunday.
Ronaldo's Real teammate Pepe is fully fit again after missing the semi-final through injury. Pepe said Portugal were strong because they want to win.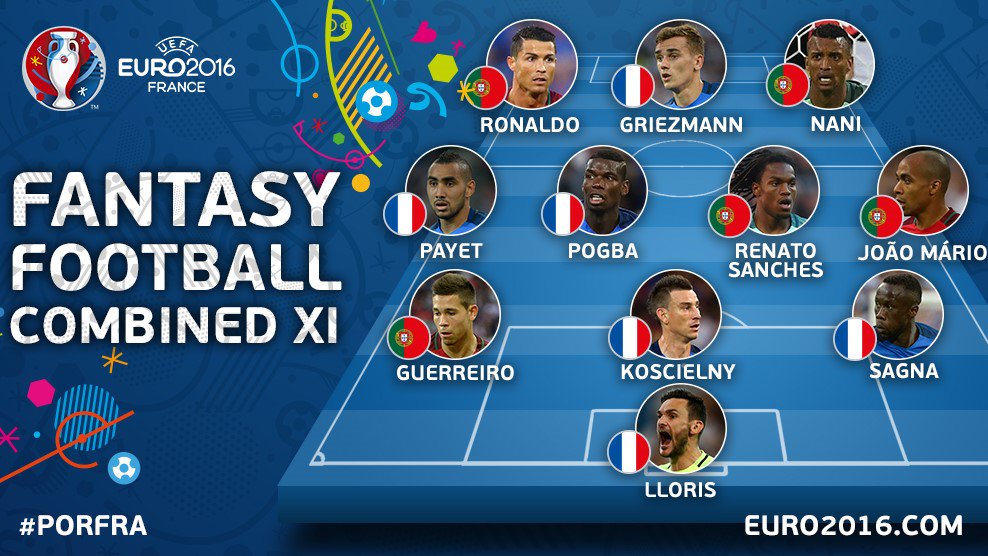 France have won their last 10 meetings with the Portuguese since going down 2-0 in a friendly back in 1975, and their head-to-head record includes victories in all three clashes at major competitions.
Griezmann vs Ronaldo - Duel of the magnificent sevens
With France's baby-faced poster boy Antoine Griezmann going up against preening Portugal superstar Cristiano Ronaldo, the Euro2016 final will feature a duel between two very different number sevens.
Griezmann, 25, is the tournament's top scorer and is bidding to deliver success for the home nation in his first major international final.
Ronaldo wept teenage tears after Portugal's 1-0 loss to Greece in the Euro2004 final and at 31, he knows he may not get a better chance of success with his country.
Euro 2016 golden boot: Griezmann goals leads
Griezmann is making a big impact at his home tournament, both in the air and on the ground. The Atletico Madrid striker is the undoubted star of the championship so far and seems destined to take home the Golden Boot as top scorer.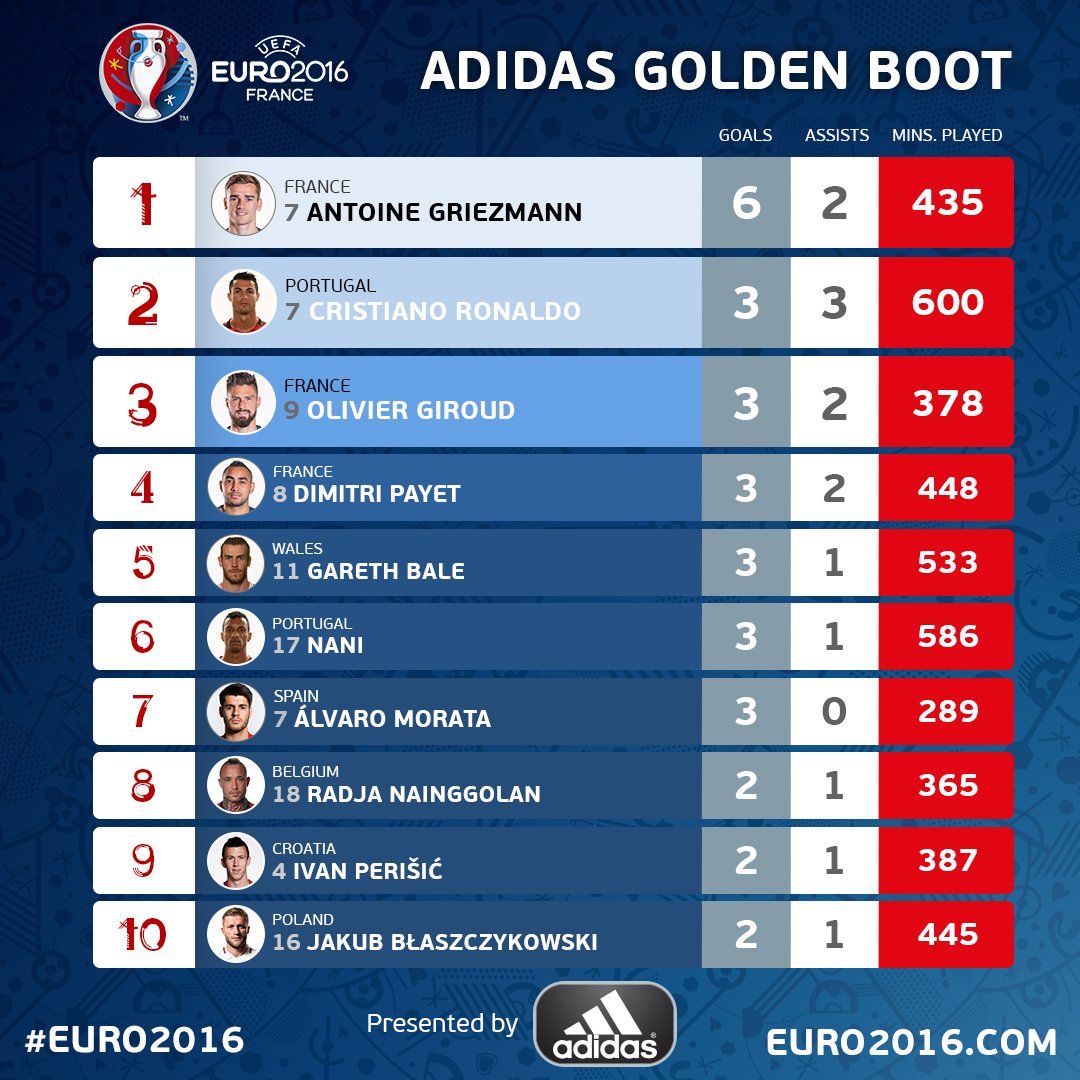 UEFA picks referee Clattenburg for final
UEFA says English referee Mark Clattenburg will handle the European Championship final between France and Portugal on Sunday.
Clattenburg completes a big match hat trick after working the UEFA Champions League final and English FA Cup final in May.
Mark Clattenburg will referee @UEFAEURO final between #FRA and #POR https://t.co/Xc8L8r8NDU pic.twitter.com/CMZeUTP9c2

- UEFA (@UEFA) July 8, 2016
He follows Pedro Proenca of Portugal in 2012 in refereeing UEFA's two highest profile matches back to back.
Clattenburg has handled three previous matches at Euro 2016, though none involving the two teams playing at Stade de France on Sunday.
France gears up for huge security operation
French police and troops are gearing up for their biggest security challenge since the deadly Nov. 13 attacks across Paris last year, as thousands of fans mass in the French capital for Sunday's European Championship final.
Security forces have three key venues to protect when France plays Portugal: The Stade de France stadium hosting the final - targeted by suicide bombers last year, the 92,000-capacity Fan Zone in the shadow of the Eiffel Tower, and the Champs-Elysees boulevard, which will likely be swamped with fans after the match.
Troops have been patrolling the streets of Paris for months in the aftermath of two deadly attacks by extremists last year. As Portugal and France fans wandered along the Champs-Elysees on Saturday they passed army trucks and machine gun-toting troops.
---
ERROR: Macro /ads/dfp-ad-article-new is missing!